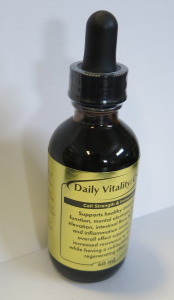 Decrease stress while building and regenerating vitality
For many years Dr. Max Barlow used to blend a "cocktail" of four of his favorite extracts and take them once a day for vitality and good health. As his adult children, many of us have carried on this tradition and taken this combination daily.
It's time to share the benefits of the "mighty four." They are East Star, Pfaffia (Suma root), Gingko Biloba and Una de gato.
East Star: an immune stimulant
East Star was originally designed to go with Essiac-20 but for many years has been used on it's own as an immune stimulant and for it's anti-mutagenic properties. It contains Pau 'd arco, Chinese astragalus, Suma root and Chaparral.
The main actions in East Star help the body:
• inhibit bacteria, fungus, leukemia cells, viruses and parasites
• fight free radical damage (strong anti-oxidant properties)
• relieve many types of pain
• reduce inflammation
• relieve rheumatism
• improve immune function
• purify blood
• promote healing for skin sores and wounds
• reduce tumor growth
Pfaffia: A powerful general tonic
Pfaffia is the botanical name for Suma root and is an amazing herb. In South America it is known as para toda (which means "for all things").
The indigenous peoples of the Amazon region who named it para toda have used Suma root for generations for a wide variety of health purposes: as a general tonic, as an energy, rejuvenating and sexual tonic and as a general cure-all for many types of illnesses. Suma has been used as an aphrodisiac, a calming agent, and to treat ulcers for at least 300 years.
It's main actions help the body:
• support hormones
• lower cholesterol
• relieve many types of pain
• calm nerves
• reduce inflammation
• inhibit tumor growth
• inhibit cancer growth
• increase libido
• decreases leukemia cell growth
• oxygenate cells
• enhance immunity
Ginkgo Biloba: helps improve mental function
Ginkgo Biloba is one of our planet's best researched and oldest surviving tree species on earth. This ancient herb acts to enhance oxygen utilization and thus improves memory, concentration, and other mental functions. In studies, Ginkgo biloba has been reported as demonstrating anti-oxidant abilities with improvements of the platelet and nerve cell functions and blood flow to the nervous system and brain.
It has also been reported as reducing blood viscosity. It's ability to increase vascular dilation may help reduce retinal damage due to macular degradation and may reverse deafness caused by reduced blood flow.
It is said to be effective in improving the blood flow to the hands and the feet as well as stimulating the brain and reducing short-term memory loss. It increases blood flow to the brain cells, and has been said to improve the transmission of nerve signals.
It's main actions help the body:
• improve memory
• enhance long-distance vision
• improve mild depression
• reduce diabetes related nerve damage
• increase uptake of glucose by the brain cells
• increase blood flow to nervous system and the brain
Una de gato: a potent immune system booster
Una de gato or Cat's claw has grown quite popular and is mostly taken today to boost immune function, as an all over tonic and preventative to stay healthy, for arthritis and inflammation, for bowel and colon problems, and as a complementary therapy for cancer.
It's main actions help the body:
• stimulate the immune system
• relieve many types of pain
• reduce viruses
• lessen inflammation
• protect cells
• get rid of toxins
• fight free radical damage
• cleanse the blood
• cleanse the bowels
• disrupts cancer cell growth
• lower blood pressure
• inhibit leukemia cell growth
• reduce cholesterol
• balance intestinal flora
• decrease depression
Recommended Dosage
For the first time these four powerhouse extracts will be available in one easy to take bottle. 50 drops once a day is the standard dosage (about 2 half droppers full).
We recommend putting the drops in a little water or juice since there is nothing to sweeten or dilute this concentrated tincture. Daily Vitality-CSI is available in a 2 oz. size and for the first time in a 4 oz. size. For many of us that have been taking this combination for a long time the convenience of having it all in one bottle will make it very easy to take anywhere. So great!
2oz size: $29.99     
4oz size: more economical $46.99      
We are so sure that you and your customers/patients will feel a difference in just the first month that we will give you a full refund if you aren't completely satisfied. So try a bottle and do something wonderful for your health and well-being!
***These statements have not been evaluated by the FDA and are not intended to diagnose, treat, cure or prevent any disease.